These Baked Carrot Cake Donuts are deliciously sweet and moist with a tang from the cream cheese glaze. Plus, they are free of butter and oil; wonderfully light, yet satisfying.
Alright people. Comin' in hot with another donut recipe. Dad-approved might I add. (I often use my dad's approval as the perfect sign that a recipe has, shall we say, won).
If you follow me on Instagram, you saw this photo of some donuts I made the other day…
I'll admit, I was happy with how the photos came out. But the donuts? They look more like cookies. Because they're flat. AF.
I was so frustrated, but I was so excited because they tasted like HEAVEN. I had to share for that reason, but I knew I wasn't totally satisfied with them.
So, the carrot cake donuts went in the oven, one mo' time. This time, I added baking soda, after chatting with my friend Ashley about the science of baking (homegirl is a genius and gave me some pointers).
And, voila!
Carrot cake donuts that don't look like pancakes!
Baking soda, you da real MVP.
[Tweet "Baked Carrot Cake Donuts to celebrate … anything!"]
These donuts are:
Moist (I hate that word but it's oh, so necessary)
Crunchy (hello, walnuts!)
Spicy (in a dessert-y kinda way)
Sweet (but not TOO sweet)
Fluffy
Perfect for the season!
Baked Carrot Cake Donuts with Cream Cheese Glaze
Prep time:
Cook time:
Total time:
Ingredients
[b]For the donuts:[/b]
1 1/4 cup whole wheat flour
1/2 cup brown sugar
1 tsp baking powder
1/4 tsp baking soda
2 tsp cinnamon
1 cup grated carrots
1 cup chopped walnuts
1 tsp vanilla
1/4 cup almond milk
1/2 cup Greek yogurt
1/4 cup applesauce
[b]For the glaze:[/b]
4 oz 1/3 fat cream cheese, room temperature (or place in microwave 10-15 seconds)
2 tbsp almond milk
1/4 cup powdered sugar, sifted
Instructions
Preheat the oven to 350 degrees and grease a donut pan.
Combine dry ingredients in a bowl and stir to combine.
Add in Greek yogurt, vanilla, almond milk, and applesauce, and stir to combine well.
Add in carrots and walnuts and fold in to mix well.
Using a spoon, spoon mixture into each donut round in the pan, filling it to the top.
Bake for 10-12 minutes, or until a knife comes out clean.
For the glaze, simply mix the cream cheese, sugar and milk together until smooth.
Notes
I bought pre-shredded carrots and pulsed them in a food processor. Additionally, I bought chopped walnuts and did the same with them.
And the moral of the story is… don't settle when a recipe isn't exactly as you'd hoped/preferred. Keep going until you perfect it – that's how you learn! And in the kitchen, you never stop learning.
If you liked this recipe, pin it for later!
Just a little glaze porn for ya. If you're into that sort of thing.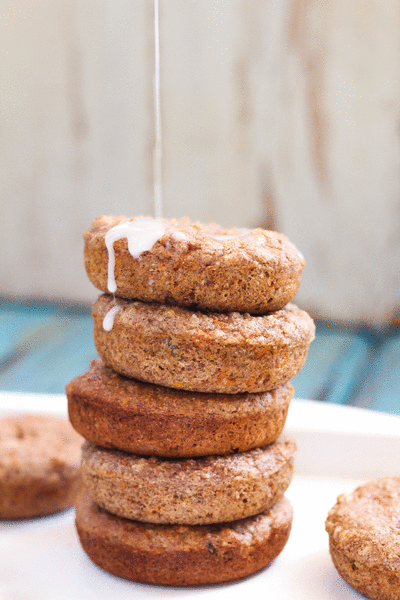 Join the conversation:
Bloggers: have you ever loved a recipe but hated how it looked?
Is there a type of cooking that you just don't have a good grasp on yet? (Baking is a total science to me!)
You might also like…
Blueberry Lemon Donuts
Glazed Pumpkin Protein Donuts